eMurmer
The eMurmur platform is hardware agnostic and runs in browser on iOS, Android, Windows, and MacOS making it the first cross-platform and widely accessible auscultation technology.
The eMurmur® software system is a remote auscultation platform for the healthcare provider. eMurmur® is used to stream, record, display, replay, and store the acoustic auscultation signal, from a growing list of compatible digital stethoscopes, including the Thinklabs One, the Littmann 3200, and the ri-sonic PCP line.
eMurmer also has AI-Based Murmur Detection, Analysis and Reporting for some stethoscope models.
New features functionality and improvements are made regularly.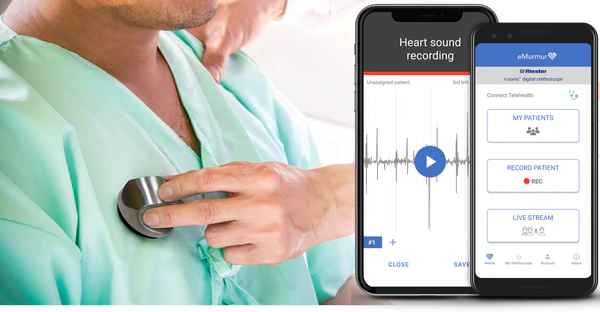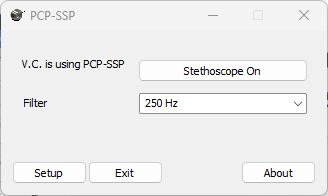 PCP-SSP
Single User Software License - Perpetual Use - No Recurring Fees
What does the software do?
Provides 5 Frequency Filters for Listening at Various Body Sites (Heart, Lungs, Carotids, etc.)
Mutes Room Mic Automatically when Stethoscope in Use
Allows for Local Listening by Nurse or Tech at Patient Site
Other Features
Simple, Easy to Use Interface - No Technical Training Required
Integrates into Audio Channel of Existing Video Conference Platform at Stethoscope Location
Software Installation at Patient Site Only – Transmit to Any Physician over Video Conference Connection - No Physician Software or Training
Windows OS Required at Patient Site
Designed for use with PCP-USB Stethoscope Only
PCP-SSP software is a software solution designed specifically for use with the PCP-USB Stethoscope. It installs on the patient side only, no installation is required on the remote side. PCP-SSP software has a one time license fee per stethoscope deployed and there are no recurring fees. Although the PCP-USB stethoscope will be recognized as an external microphone on any USB equipped hardware device including Windows, IOS and Android, use of the optional PCP-SSP software requires a Windows platform at the patient site.
PCP-SSP Setup and Debugging Guide